Das Cabinet des Dr. Caligari (The Cabinet of Dr. Caligari)
(1920)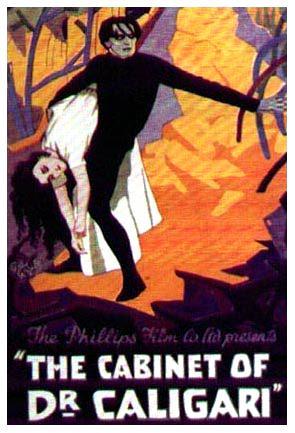 Director: Robert Wiene
While I would never pretend to be a horror film fan, or possess a great knowledge of its history, I feel I have seen enough horror films to appreciate the genre's antecedents in
Dr Caligari
. Body horror is the sub-genre I have most enjoyed (perhaps because of its interesting relationship with gender), but I also find psychological horror enjoyably unsettling.
Unfortunately, the twist at the film's end was spoiled for me (from studying film history no less); a circumstance which I believe affected my experience. I won't be cruel and do the same to you. Despite that, I am glad it was included in the film; the original writers were apparently annoyed about the framing story's inclusion.
The production design is still quite impressive, setting the story in an abstract space. As a result, the highly stylised acting is more bearable as they are not aiming at realism. The copy I saw carried the Expressionism into the intertitles, which was at first made it difficult to read, but ultimately worked well.
This is not the ideal silent film to see as your first experience of the form. It also helps to know why it is considered so important in film history; just don't let your reading spoil it for you!