Whiplash
(2014)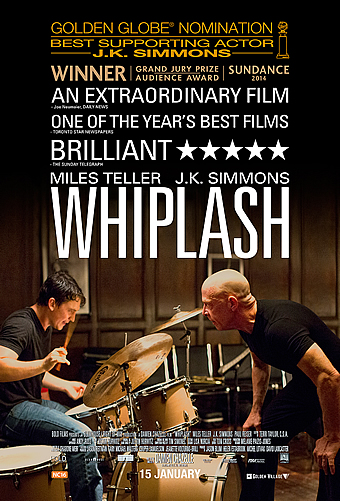 Director: Damien Chazelle
I watched the short film before I saw the feature length film; it worked as a good taster, showing J. K. Simmons' menacing Terence Fletcher in all his fury. The feature film intensifies the central relationship between Fletcher and Andrew, adding only a few characters to the mix.
I really enjoyed
Whiplash
; the editing was superb, its rhythm at times mimicking the drum beats Miles Teller's Andrew is trying to master. The close-ups on the vibrating drum skins and cymbals enhanced the sound, aided by the added element of sweat and blood that Andrew exudes. Teller was good, portraying the frustration and passion Andrew feels about his drumming. However, the film belongs to J. K. Simmons, who gives us one of the most angry and cruel characters I have seen for a long time. His fury is not the cold, contained evil of most villains, it is hot and loud, which is difficult not to turn into comedy; I never felt like laughing at Fletcher, demonstrating just how pitch perfect Simmons' performance is.
There is no reason not to see this film; it is clean in its storytelling, confident in its film techniques, and strong in its acting. If you heart doesn't race in the drumming scenes, you should consult your doctor, for you might be dead.