Safety Last!
(1923)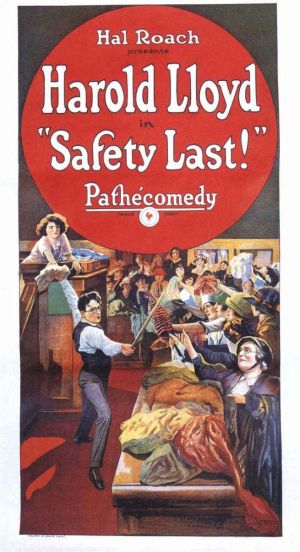 Director: Fred C. Newmeyer, Sam Taylor
While the
1001 Movies
list is a great tool for those wanting to expand their viewing experience, it is very much weighted towards more modern films. Of the silents, comedies are largely drawn from the filmographies of Keaton and Chaplin, who are indisputably great, but many other popular stars are ignored; the main one is Harold Lloyd.
Safety Last!
deserves to be mentioned along with
The General
and
City Lights
, being as funny as those films, and featuring equally iconic images.
Like Keaton and Chaplin's characters, Lloyd's 'Boy' works for a living, and his aim is to marry his sweetheart. He has stretched the truth about his employment; his girl thinks he is the general manager when is only a humble sales assistant, and many shenanigans ensue. An irate policeman is also after our hero (a sub-plot common to silent comedies). All this leads to a great third act, involving stunt work that would make Keaton proud: Lloyd climbing the department store building to earn a tidy sum. As someone who is terrified by heights, the laughs come with a dose of fear as we watch Lloyd teeter on the edge of window ledges and hang from clock faces.
Silent comedies have generally aged better than more melodramatic fare from the era, and Lloyd is certainly one of the greats. While I have watched many Chaplin and Keaton, and love both for their different approaches to storytelling, I am looking forward to seeing more of Lloyd. Any suggestions?