The Black Balloon
(2008)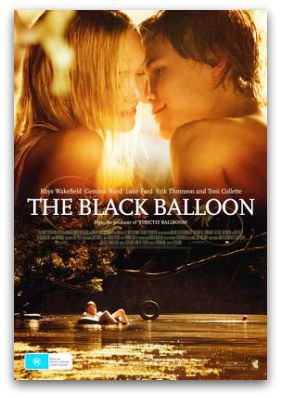 Director: Elissa Down
I have some personal connections to this film: a few family friends were extras in this film, one even has a speaking role. It was fun spotting them throughout the film. The other connection is the director Elissa Down: she ran a two-day directing course that I attended earlier this year. This was her debut feature film, and has semi-autobiographical elements. I had seen the film a few years ago, but couldn't remember much of the story. I was glad I re-watched it: this is a great directorial debut, and a great Australian film.
Thomas is trying to be a normal teenage boy, and spends the film trying to pretend that his brother is fixable. Charlie, his older brother, has autism and ADD, and causes Thomas much embarrassment. Down gets the balance between humour and pathos just right: the family fights are both funny and sad. Down and Baker use camera angles really well, using Dutch angles when the tension mounts.
This did get a small release overseas, and I would definitely recommend it. The acting is great from everyone: Toni Collette is the film's heart, and Luke Ford is DiCaprio-like in his portrayal of Charlie. I hope Down gets to make another film soon: she is a very talented filmmaker.