Sydney Film Festival: (My) Day One
When the program was released for the Sydney Film Festival several weeks ago, I decided to force myself out of my usual laziness and homebody lifestyle and actually attend a few sessions. $155 later I had booked 10 different films, and today watched the first two: Kelly Reichardt's
Certain Women
and Pedro Almodovar's
Julieta
. Here are my thoughts.
I had been impressed by Reichardt's
Meek's Cutoff
, which followed a group of pioneers moving through the Oregon High Desert, so seeing her new film was a no-brainer.
Certain Women
is played at a similarly understated level, as it follows the lives of three separate women, played by Laura Dern, Michelle Williams and Lily Gladstone. Their stories quietly connect, but don't affect each other directly. Dern's character, a lawyer, is caught up in the mess of a client's anger over his work compenstation case; Williams' Gina appears to be frustrated in her marriage and has a strained relationship with her teenage daughter; Gladstone's rancher develops a slight obsession with Kirsten Stewart's young lawyer running a local class about school law. If you like Reichardt's quiet approach, you will enjoy this, and the performances are all great, particularly Gladstone.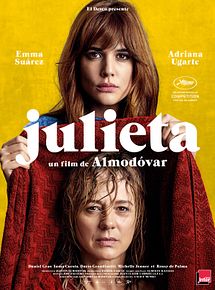 I had read that
Julieta
received mixed reviews, and it is certainly not top-tier Almodovar. However, it has a clever, mysterious plot around a middle aged woman and her estranged daughter, who left her without explanation at eighteen. The role of Julieta is played by two actress for the different times of her life; Emma Suarez middle-aged, and Adriana Ugarte as a young woman. The two don't quite look like each other, but it is a clever way to visual way to demonstrate the transformative pain of grief.
Overall, my first day of the festival was good, and it was great to see two films that focused on women, and middle-aged women in particular, taking their lives seriously and not focusing on their romantic relationships with men.