Frankenstein
(1931)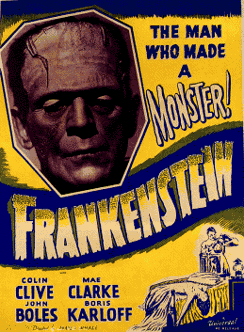 Director: James Whale
It is hard to watch Whale's
Frankenstein
without being constantly reminded of Mel Brooks'
Young Frankenstein
, one of the funniest films ever made. Brooks matched the aesthetic of his film so closely to the old horror films, and parodied many of the tropes, particularly the angry mob, that it could be very easily for this film to simply be unintentionally humorous. Thankfully, Boris Karloff's performance as the monster is so perfect that one cannot help taking his predicament seriously.
Karloff gives the monster a wonderful blend of humanity and monstrosity. His desire to escape is natural, considering the treatment he receives from Frankenstein and Fritz (no Igor in this film sadly). He has a curiousity that is human, coupled with a child-like ignorance about the consequences of his actions; this leads to one of the saddest moments in the film. The penultimate scene, where the old mill is set on fire, leading to a type of old-fashioned burning at the stake, your sympathies lie with the monster.
Frankenstein
came out the same year as
Dracula
, and Dwight Frye was in both as a mad sidekick to the main villian. I preferred the more dynamic energy of
Frankenstein
, with its many set pieces, including the search on the mountains for the monster. Karloff's monster, like Lugosi's Dracula, is so iconic that many people who will never see the films associate the characters with their performances. That is a pity, for these films should be seen in order to fully understant why they have become legendary.