The Marriage of Maria Braun
(1979)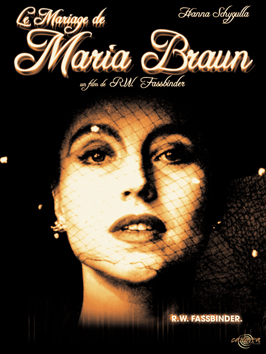 Director: Rainer Werner Fassbinder
This was one the films screened at the Film Club I attend, an interesting choice as the other nine films being shown in this program were made in the last two years. But I am certainly glad they did. This is the first Fassbinder film I have seen, and if they are all as interesting as this, I look forward to seeing more . Maria Braun is a character similar to Scarlett O'Hara: not necessarily easy to like, yet resourceful and clever. She is literally and mentally wedded to Hermann Braun, despite only spending one day of married life with him, due to the War. I won't say much more about the plot: I found it an enjoyable film to watch without knowing what would happen next.
Fassbinder was influenced by the melodramas of Douglas Sirk, stories that centre on the experiences of women in a constrictive world. You can see this in
Maria Braun
; the world isn't exactly hostile towards her, but she works hard to carve out a path for herself in the New Germany that is emerging out of World War II. Fassbinder link Maria's experiences to Germany. The country, which was called 'The Fatherland' in propaganda from Nazi Germany is feminised by Fassbinder.
Hanna Schygulla is rather memorising as Maria. She aware of how attractive she is and uses it to her advantage; she chooses when affairs begin (though not quite when they end). She changes over the course of the film, becoming harder and colder as she is constantly denied access to the man she loves. The ending still creates discussion, clever staged by Fassbinder to leave Maria's intentions a secret.