Eyes Without a Face (Les yeux sans visage)
(1960)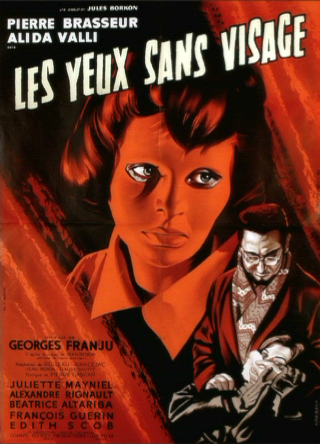 Director: Georges Franju
Scenes of surgery sometimes make me squimish, depending on how identifiable the body part is. So eyes and hands are deeply uncomfortable, while internal procedures are more curiosities (despite the greater amount of blood). The surgical scenes of Franju's film, face removal and transplantation, are deeply disquieting, (though for me not sickening). What is even more shocking is the reason for the surgery, and why women keep turning up dead with the skin of their faces missing, with the aloof, almost dispassionate camera enhancing this horror.
Dr Genessier, our surgeon, falls into the category of mad scientist, along with Dr. Frankenstein, but he does not spend the film raging around with furious energy. Instead he is almost preternaturally controlled, only expressing great emotion in the film's last scene. This sense of stillness pervades the film, giving it an uneasy atmosphere. This stillness is presented most horrifyingly in the form of the mask worn by Christiane Genessier; white and impassive, with lips that only slightly move when she speaks, the mask is one of the most frightening things I have ever seen in a film. I remember as a child seeing a painting in an art gallery of two figures with white fabric over their faces. It terrified me, and that same fear came back watching Franju's film.
The motivation for all the face surgery (and transplantation) is not the usual desire for continuing youth, but guilt; a father's guilt over destroying his own child's face. This gives the film a poignancy and even melancholy, particularly from Christiane, who is sick of hiding from the world.
Eyes Without a Face
is deeply unsettling, and strangely beautiful, a perfect counterpoint to the tendency of modern horror films to go for big scares without much substance.