Halloween
(1978)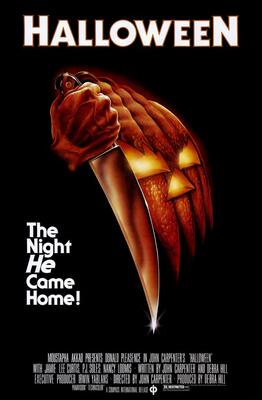 Director: John Carpenter
I have previously said that the slasher sub-genre is not my favourite type of horror, though it appears to be the go-to film for teenagers wanting a scare; probably why I didn't warm to horror films until I was in my twenties and starting watching films from anywhere. Despite this, I found much to enjoy in Carpenter's film, particularly in the way he shoots his story.
Instead of dousing the audience in buckets of blood, Carpenter uses artful framing to create terror. Widescreen wide shots are deployed to make you look into the background, noticing small movements like doors moving. Shots also hold longer than you would expect, creating a sense of observation, paranoia and voyeurism.
Despite my relative lack of slasher film experience, even I recognised the various tropes of 'the final girl' and the morality tale-style killings of the more promiscuous teenagers. Having watched
Scream
before seeing this (they were a double bill on television), some parts were unintentionally funny, as I remembered the scene in
Scream
where one characters yells at the TV 'Turn around Jamie!'
I enjoyed seeing this, and even found the ending rather chilling. A question to you readers: should I watch any of the sequels?